Introduction
Request-based high frequency regional observation
Geo-Kompsat-2A AMI Rapid Scan (ARS) Service Description
1. Introduction
The Advanced Meteorological Imager (AMI) on board Geo-Kompsat-2A (GK2A) is capable of frequent and flexible observation, providing full disk images of the Earth every 10 minutes and regional images at shorter intervals (see Figure 1). Full disk and other regional observations have spatial resolutions of 0.5 to 2 km and spectral coverage incorporating 16 channels.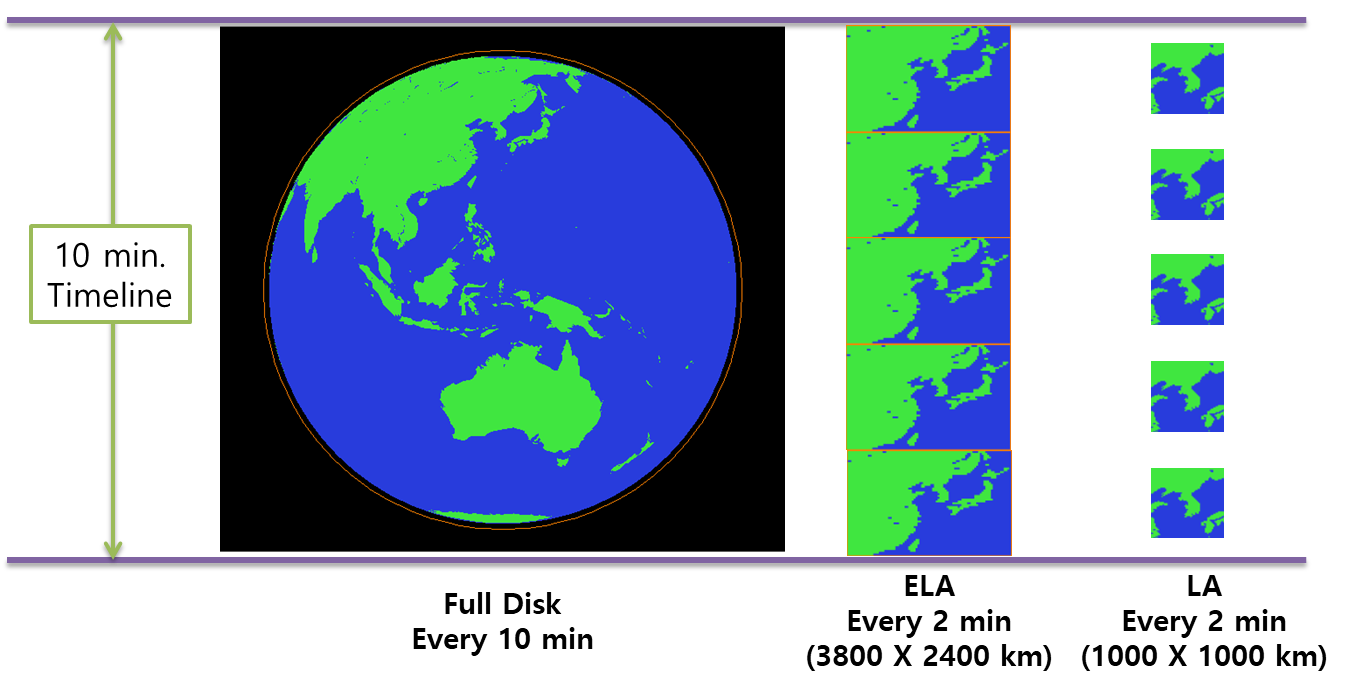 For regional monitoring, Target Area (TA) observation provides imagery covering a 1,000 x 1,000 km area every 2 minutes with location change flexibility in order to support KMA's national and international services. Local Area (LA) observation normally observes the Korean Peninsula, but will also focus on request-based Target Area observation. The GK2A ARS service allows National Meteorological and Hydrological Services (NMHSs) to request particular Target Area observations by leveraging the location flexibility on an international scale.
2. Service Request Guidelines
2.1 Service Overview
The GK2A ARS service allows NMHSs in the GK2A coverage area (herein referred to as "Users" or individually "User") to request specific areas and times for TA observation.
2.2 Basic Principles
I. Users' requests may be rejected or suspended depending on circumstances within Korea or KMA.
II. The service is provided on a best-effort basis in consideration of operational limitations.
III. Users' requests relating to emergency operations for tropical cyclones and volcanic eruptions are prioritized over other users' requests.
IV. Observations shall not initially exceed 24 hours for tracking observations. The maximum period for fixed observation is seven days, but this period may be extended upon additional request.
2.3 Request Management
All users including in the RA II and RA V should submit a request directly to KMA via a dedicated web page. In the event of conflicting requests from different Users, KMA shall assign priority in line with the Basic Principle 3 above. If this is impractical, KMA shall assign priority at its discretion. The related procedures are detailed in Section 2.5.
2.4 Registration
Before using the service, users must submit a completed registration form specifying the e-mail address from which requests will be sent in order to enable validation by KMA.
2.5 Request Procedure
Users should request the service via a dedicated website using the registered e-mail address with information on the observation center and the desired start/end times to trigger subsequent procedures. The relevant URL will be provided once registration is complete. Users in RA II and RA V can request the service from KMA using a dedicated webpage (http://datasvc.nmsc.kma.go.kr/datasvc/html/special/specialReqMain.do). The procedure is as follows (see Figure 2):
2.6 Service Availability
The GK2A ARS service is available 24/7 and provided ASAP. The request procedure is normally completed within around one day during working hours and up to around three days otherwise.
3. Data Access
Target Area observation data are provided via the NMSC Web page or Real-time FTP Service (RFS). Related imagery (imagery products and observation area) is also available on the GK2A AMI Real-time Image website.
4. Feedback
Once the requested observation is complete, users are asked to provide KMA with feedback on how the observation data are used.
5. Reference Site
Emergency Support Mechanism of FENGYUN Satellite (FY ESM) [CMA]
URL: http://nsmc.org.cn/service/en/emergency/index.html
HimawariRequest [JMA]
URL: https://www.jma.go.jp/jma/jma-eng/satellite/HimawariRequest.html